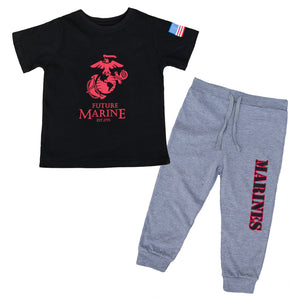 Trooper Clothing's Marine Toddler 2pc Jogger Set, is a stylish and comfortable outfit for your little one. The set features a black 100% soft brushed cotton T-shirt with a screen print EGA on the chest. The pants are a jersey grey with "MARINES" screen printed down the leg.
This set is perfect for your toddler's active lifestyle. The soft cotton fabric is comfortable and breathable, while the jogger style pants provide a secure fit. The bold screen prints add a touch of style and make this set a great choice for any occasion.
Make a statement with the Marine Toddler 2pc Jogger Set. Get yours today at TrooperClothing.com!